Last month FAB Family was invited by Lampung University (UNILA) to do a showcase in Lampung. They asked us to be a speaker for a seminar about graffiti & street art, perform live and judging a graffiti contest held by UNILA. So we accepted the offer but unfortunately only 4/10 of FAB Family had the chance to visit Lampung (Stereoflow, Cheztwo, Racht4, and Skid) and LiaPiyik.
We left Bandung around 9pm and drove towards Lampung via Jakarta-Merak and crossing Selat Sunda using a carrier ship. Arriving at Lampung the next day, we were greeted by Lampung Street Art (LSA) and had a nice breakfast with them. Then we were escorted to the hotel feeling exhausted after a long trip. Late in the afternoon, we went to meet one of the sponsors 'Diton Spray Paint' and had a little chat with them about how they wanted to support graffiti with their products. After that, we headed back to the hotel and it was beer time and good laughs with LSA. Then late at night, FAB Family and LSA did some street stuff right before we all had some sleep.
Around 10am on the next day, we went straight to the event in UNILA. We started the event by a seminar discussing graffiti and street art. There were some good feedbacks from the students and people their. Hopefully we shared enough to make the scene in Lampung much more better.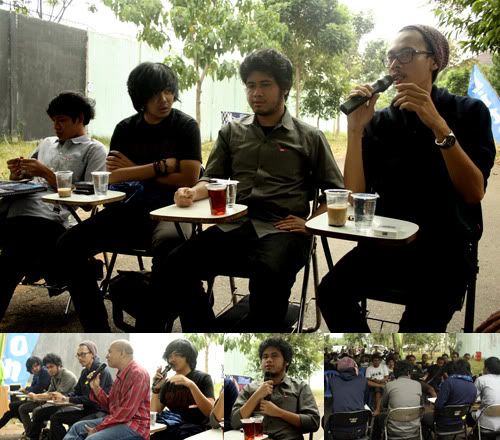 Next on the rundown was the graffiti competition sponsored by Diton Spray Paint. A theme was set and it was 'Go Green'. There were about 25 contestants participating and all of them did a great job doing there pieces fitting into the theme. After they've finished their pieces, the contestants had to wait for the results. While they wait, it was time for the live performance by us (FAB Family). During the production, we were attacked by people that wanted pictures and tags from us, lol. But it was fun though. We had a blast that day!
(click picture below for bigger size)
And before we left Lampung, we had a session with LSA. FAB Family would like to thank UNILA for having us and a big big thanks to Lampung Street Art. Rock on guys! Street Art for Indonesia!
Last but not least, a very special thanks to
Wadezig!