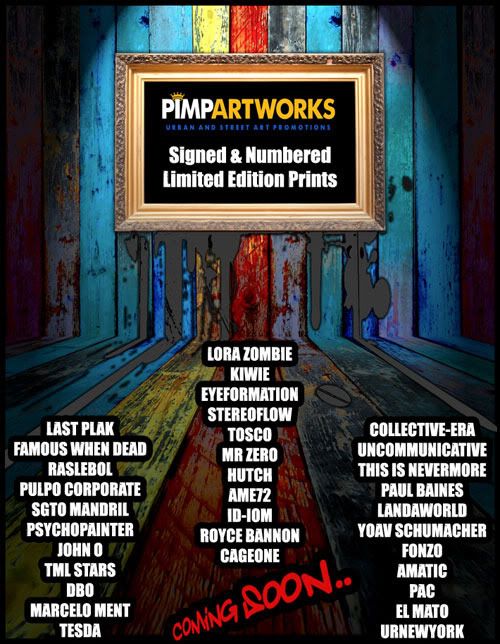 PimpArtworks.com is a brand new online art website dedicated to Urban & Street Art, both traditional and digital types.
Four months after the site has gone live, PimpArtworks are proud to announce their Artist line up for their new Limited Edition, Signed and Numbered prints section, which will showcase exclusive works by Street Artists from around the world.
The new section which will be going live in the coming weeks, will be ran side by side next to the site's current Open Submission art community, which in its own right has already undeniable introduced and exposed talents that otherwise would be unheard of through conventional Urban art world exhibiting methods.
In a recent review by Computer Arts magazine, the newly born PimpArtworks Open Submission platform even manages to stand its ground against the likes of the big corporate sites, including Behance and Flickr.
This latest move will categorise PimpArtworks into a unique league all on its own. PimpArtworks state "Leaving the platform as a print on demand concept would frankly just be a waste. This was never the plan."
"While the upmost respect goes to the likes of Banksy and others who have busted the whole Street Art scene wide open, we also recognise that not everyone may be privileged enough to be able to splash out on something some would only class as an investment."
PimpArtworks want to reach out to a brand new audience past what the established bricks & mortar galleries may only manage to attract, and offer a very exclusive but affordable collection.
"Our approach has always been to simply break down the normal domineering red tape put in front of creative talents trying to get out there, and simply act as an interaction between themselves and their appreciative audience."
"This new Limited Edition section will see a mix of some well known street artists, both old skool and fresh, in with some more than capable up and coming artists who we have very high hopes for."
PimpArtworks Limited Edition Signed Prints coming very soon to
http://www.pimpartworks.com
Also check out:
Stereoflow interview at PimpArtworks