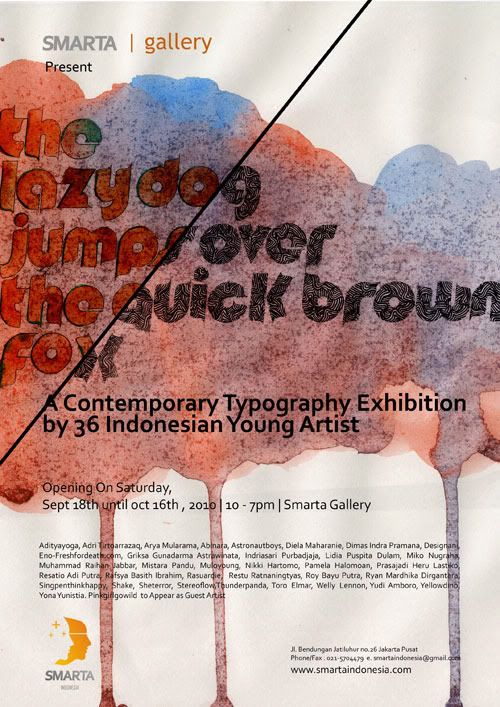 Smarta Gallery presents:
'The Lazy Dog Jumps Over The Quick Brown Fox'
A Contemporary Typography Exhibition by 36 Indonesian Young Artists.
Opening Exhibition:
September 18th, 7pm at Smarta Gallery.
Jl. Bendungan Jatiluhur No.26 Jakarta Pusat.
With participating artists:
Adityayoga, Adri Tirtoarrazaq, Arya Mulawarma, Abinara, Astronautboys, Diela Maharanie, Dimas Indra Pramana, Designani, Eno-Freshfordeath.com, Griksa Gunadarma Astrawinata, Indriasari Purbadjaja, Lidia Puspita Dulam, Miko Nugraha, Muhammad Raihan Jabbar, Mistara Pandu, Muloyoung, Nikki Hartomo, Pamela Halomoan, Prasajadi Heru Lastiko, Resatio Adi Putra, Rafsya Basith Ibrahim, Restu Ratnaningtyas, Roy Bayu Putra, Ryan Mardhika Dirgantara, Singpenthinkhappy, Shake, Sheterror, Stereoflow, Thunderpanda, Toro Elmar, Welly Lennon, Yudi Amboro, Yellowdino, Yona Yunistia.
The exhibition will be held until 16 October 2010
www.smartaindonesia.com