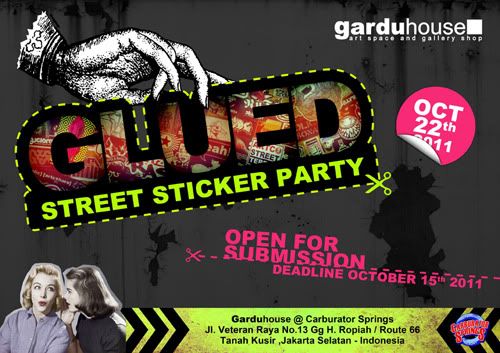 22nd October 2011
at GARDUHOUSE
CarburatorSprings
Jl Veteran Raya No.13 Gg H. Ropiah/ Route 66
Tanah Kusir, Jakarta Selatan
Indonesia
A great and modest event initiated by GARDUHOUSE to gather art pieces created by friends that used to put their creative ideas through stickers in public spaces. This is a collective exhibition in GARDUHOUSE art space.
Sebuah acara sederhana yang digagas oleh GARDUHOUSE untuk mengumpulkan karya dari teman-teman yang biasa mempropagandakan gagasan kreatifnya di ruang publik melalui media stiker untuk di pamerkan secara kolektif di GARDUHOUSE art space.
GARDUHOUSE opens its door up to anybody to participate in GLUED. All you have to do is fill the registration form below and send your stickers to GARDUHOUSE. Make sure you'll be part of this GLUED exhibition!
GarduHouse membuka pintu selebar-lebarnya bagi teman-teman untuk berpartisipasi dalam acara "GLUED". Yang perlu kalian lakukan adalah mengisi form registrasi dibawah dan kirim karya stiker kalian ke GarduHouse sesuai ketentuan. Pastikan kalian ambil bagian!
Sticker Artist Bio
Name :
Web/Blog* :
Location (City) :
*if you have it
Requirements
- Maximum quantity of 10 pieces of different stickers.
- Maximum sticker size is A4.
Deadline October 15th 2011.
See you at "GLUED" Street Sticker Party. Let's get glued!
Contact Person:
BujanganUrban 085698870048
Chatmentos 085781737781
Visit
GARDUHOUSE