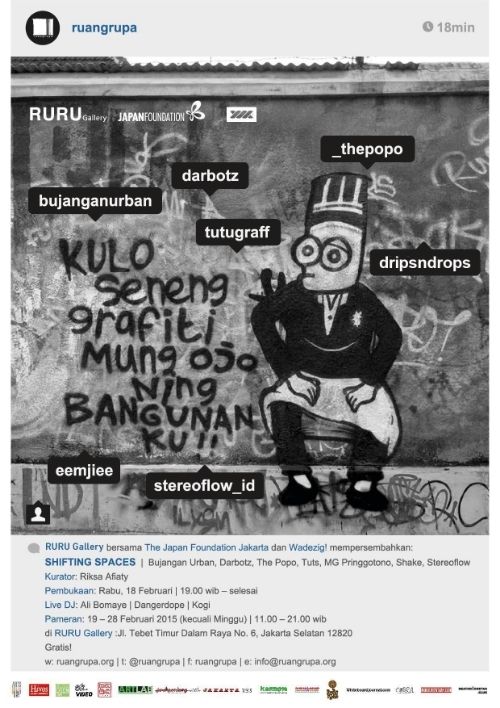 RURU Gallery with Japan Foundation Jakarta and Wadezig! Present:
SHIFTING SPACES
Bujangan Urban, Darbotz, The Popo, Tuts, MG Pringgotono, Shake, Stereoflow
Curator: Riksa Afiaty
Opening:
Wednesday, 18 February | 7.00 p.m. – finished
Live DJ:
Ali Bomaye
Dangerdope
Kogi
Exhibition:
19 – 28 February (close on Sunday)
11.00 a.m. – 09.00 p.m.
At RURU Gallery
Jl. Tebet Timur Dalam Raya No. 6
Jakarta Selatan 12820
***
Seven street artists: Bujangan Urban, Darbotz, The Popo, Tuts, MG Pringgotono, Shake, and Stereoflow will be presenting their works in RURU Gallery in an exhibition entitled SHIFTING SPACES.Curated by Riksa Afiaty, this exhibition seeks to reexamine the creative practices performed by street artists, as a group or individual nowadays. Basic elements in the convention of street art: space, time, and privacy yet again become the highlights to be discussed. Riksa, invited those artists to discuss, exchange ideas about what might be done by street artists these days.
All in all, this exhibition will be an attempt to shows idea, tactic, and negotiation done by the seven street artists in such spaces. A panel discussion was held previously to hone the ideas that will be expressed and later displayed as a part of the exhibition.
This exhibition project is one of the outputs of Curators Workshop in South East Asiaprogram,organized and supported by the Japan Foundation Jakarta.
***
Free!
W: ruangrupa.org | t: @ruangrupa | f: ruangrupa | e: info@ruangrupa.org