What happens if someone suddenly appears right in front of you and takes a piss while you were doing the one thing you do when you are alone? Even though every person has different ways of expression, but the only expression that seems to appear is shocked. These are captured expressions of different individuals that Buton Kultur 21 exhibited at 'Bazaar Art Jakart' at Pacific Place last month. (Sorry 'bout the low quality pics).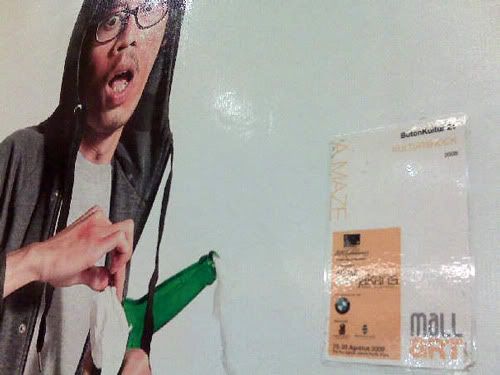 Photos
: Adhika Utama
About Buton Kultur 21:
Buton Kultur 21 was formed 23 April 2006, as a forum for young artists who responded to the minimum public facility that should encourage the works of artists and designers in Indonesia. The aim of Buton Kultur 21 is to develop research, production and distribution of new art which come from interdisciplin contemporary artists. Buton Kultur 21 was formed from the intermedium, video, photography and painting.